All ancient civilizations used it. The Romans gave it its name. But how can the old calendar improve your QESH processes? The short answer is through smart automation.
The AlisQI QESH calendar ensures that you easily manage reoccurring tasks such as calibrations, audits, or inspections. Unlike traditional ways of keeping track of what's on the agenda, it brings scheduled events forward, allows document attachment, and offers a shared view for the entire organization. So, if you'd like to always be up to date and make your QESH processes clear and transparent, read on.
The calendar of today
Calendars nowadays are more than their time-measuring ancestors. They've evolved – from carved stones tracking solar years and lunar cycles into digital tools that organize our days, send reminders, and give useful tips about how to tackle everyday challenges.
With the quality teams' ever-increasing workload, time is of the essence. To help our customers increase efficiency and easily take action, we've designed a QESH calendar that can be maintained and adjusted like any other ready-to-use QESH template.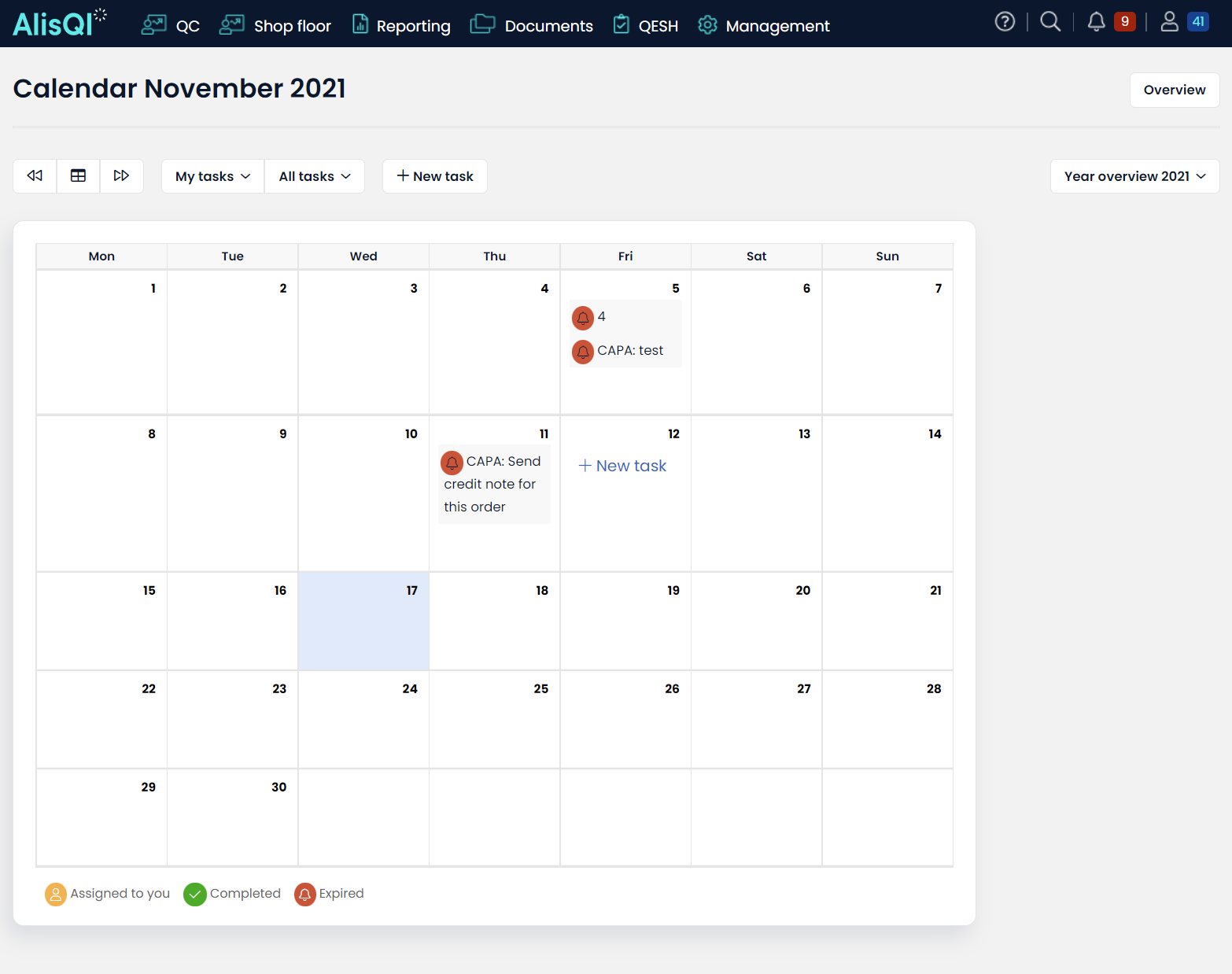 How does the AlisQI QESH calendar work?
When creating a new event, QESH managers need to answer these three questions:
When? They need to specify the due date and the event frequency.
Who? The second question is all about assigning an owner.
What? The last step is all about setting a title for the event, picking an event type (calibration, external audit, hygiene inspection, internal audit, maintenance, meeting, product retest, sampling) and adding a short description
AlisQI will check every morning around 5 AM (CEST) for new events and notify the assigned owners of the activities that need to be conducted. There is no way for users to miss an event. The notification reminders will be presented on the application's welcome screen. When the task is completed, they can simply edit their calendar entry, specify their findings, and add relevant documents that help with follow-up actions.
Do you need to reschedule an event, increase frequency, change the responsible person? No problem, every entry in the calendar can be edited.
Need some extra tips?
The ease with which they can organize events and keep track of their schedules is the most common reason why manufacturers choose the QESH calendar over filling out a personal agenda. But functionalities and advantages go far beyond this. Here are five useful tips that you need to know about:
Include attachments. You can add references from your AlisQI Document Management system to events. These will show up when the event is due and ensure that everyone is well prepared.
Reschedule based on frequency. Pick among weekly, biweekly, monthly, bimonthly, quarterly, half-yearly and annual events and save yourself the trouble of scheduling new dates. Rescheduling is also based on the completion date. For instance: When a monthly event is finished on July 31st, a new event will be scheduled for August 31st.
Use filters, save time. Filter through events to quickly pull up information. Even in the case of a completely filled-out QESH calendar, AlisQI's powerful filtering functionality allows users to cut through complexity and focus on event types, tasks, or assigned owners so that they find what they need.
Include a short description to better manage events. When creating a new event, some manufacturers may consider a title like ''Calibration'' descriptive enough. However, when calibrations are scheduled weekly or every other week, it may be helpful to draw clear distinctions between goals and follow-up actions.
Remember with ease. Besides zooming in and out between monthly/yearly overviews, all tasks (per organization), and individual tasks, the AlisQI QESH calendar also marks events in three helpful colors: green for completed tasks, red for expired, and yellow for tasks that are open and assigned to you.
As highlighted above, calendars have evolved and become smarter. The AlisQI QESH calendar can boost efficiency, keep organizations up to date and make QESH processes clear and transparent. You may still be fond of writing down events in your agenda. But then again, how many agendas do you need when managing calibrations, audits, inspections, sampling, and other events in multiple factories?