All you need to know about QMS integrations
Example use cases
A modern business process never operates in a silo. Whether it bridges multiple systems inside of your organization or even in the supply chain, good quality management never stands alone.
Frequent integration scenarios are with:
ERP systems (master data, orders)
PLM (specification management)
Quality Data download for business reporting
Lab Instruments
IoT sensors or SCADA integration
MES / MOM integrations
ERP integrations
Your Enterprise Resource Planning (ERP) system is the home to a lot of crucial business information. That data is used in your QMS, but all too often needs to be transferred manually or, even worse, gets out of sync. Integrating your ERP with a modern QMS like AlisQI provides modern factories with the best of both worlds.
Frequent use cases include:
Connecting master data from ERP to QMS
Initiating manufacturing orders from ERP to QMS
Releasing batches from QMS to ERP
PLM integrations
Specifications of products are typically managed in an ERP system or dedicated Product Lifecycles Management (PLM) system. Testing against the correct specification is critical to good quality management. And the more products you produce, the bigger this challenge.
Integrating your PLM with AlisQI makes testing easy by always having the up-to-date specs available to the quality team.
Business reporting
While a good QMS provides in-depth quality reporting, the data stored in a QMS is often valuable for other business reporting. Think about using quality data for supplier management, using aggregated data for ESH reports, and doing in-depth data analysis for business process improvements.
All data in AlisQI can always be downloaded or directly be integrated with your reporting tool of choice through our API.
Lab instruments
Many instruments are used in manufacturing labs to validate the production outcomes. There's nothing your lab technicians hate more than manually duplicating data from instrument displays to paper to the QMS.
Modern instruments have APIs that can be used to bring data directly to your QMS and add them to the test results.
IoT or SCADA integrations
With sensors readily available everywhere, quality management can directly be integrated with your production line. This involves both operators and the quality team in the quality process so they can be proactive rather than reactive.
Data generated by sensors can be gathered through edge computing, IoT platforms, SCADA or sent directly to AlisQI.
MES / MOM integrations
Shop floor operations can be managed through MES or MOM systems. Connecting MES/MOM systems to your QMS brings all relevant production info to the QMS domain.
Optimize the yield of the factory and create the perfect production-line settings by correlating production parameters with quality outcomes.
The AlisQI SaaS platform and security
This whitepaper describes the AlisQI Software as a Service platform. In it, the architecture, security measures and procedures, privacy and service level are discussed.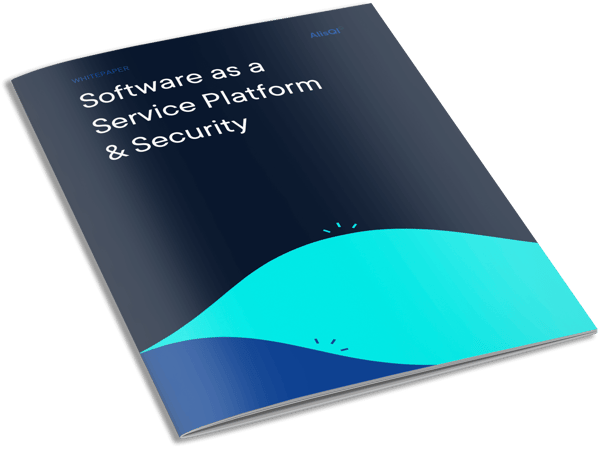 Let's plan a free demo!
We would love to show you how your factory can benefit from using our software, save up to 20% on time and reduce waste by up to 15%! Join our 1-hour online demo to get a clear impression of how AlisQI could help you work smarter.