Make EHS actionable by our EHS Management Software
The swiss army knife of EHS Management
How do you as a QA manager ensure that everyone knows their role? And how do you ensure that you know the current state of affairs during audits? How do you deal easily with recalls and customer complaints?
AlisQI helps you to make EHS processes clear, measurable and transparent. With our building blocks and templates, you define your own forms, workflows, alerts and dashboards. Create your own EHS system with AlisQI.
Jump start your EHS management
To let you make a jump start in making your EHS management work for you, we standardized the main processes in quality management.
AlisQI contains blueprint workflows and forms for all major EHS processes. With our unmatched flexibility, you can easily adjust those blueprints to the needs of your business.
Create your own forms and workflows
Every organization is unique. Over time, processes change. That is why we made AlisQI as flexible as possible. With the right permissions, users can create and adjust forms, workflows and reports. All to assure that your quality system mimics reality.
Actionable EHS requires insights
In order to make EHS actionable, you need information. Our EHS management software provides you and your team with counters, KPIs, dashboards and alerts. You can tailor these indicators and alerts to your needs.
All actions originating from EHS incidents of any kind are registered and maintained in a central CAPA action list. This boosts clarity of CAPA Management.
Learn from your data
All data you collect proves to be very valuable in optimizing your processes. AlisQI has an extensive analytics engine built into it. In just a few click you create your charts, dashboards and reports. For you, your customers and suppliers. All in one platform.
Keep track of all events and CAPA
With the ever increasing workload for your quality team, smart automation is key in preparing for the future. AlisQI makes sure you and your team keep track of all events in your quality processes.
Stay informed of all open CAPA actions, for both you and your team.
High praise from the ​auditor
Delamine, a chemical business in The Netherlands, implemented AlisQI as their integrated platform for quality. At the first audit after AlisQI was implemented, the auditors complimented Delamine.
The auditors were very satisfied with our EHS system, they called this ​​Best Practices and an example ​to the industry.
Susanne Haaijer - QA Manager Delamine
Browse through our features
Forms
Workflow
Reporting
System integration
Forms
Easily create your own forms
10+ form templates available
Accessible to everyone
Very versatile: complaints, deviations, improvement, audits, trainings, CAPA, safety incidents, environmental records, and more
Easily add photos and attachments
Central & personalized action lists
Calendar for periodic events
Integration with procedures from the internal Document Management System
Workflow
Define custom workflows & notifications
Notify (action) owners when they are assigned
Notify users of state transitions
Define business logic to create follow-up actions
Webhook system integrations
Reporting
Clear overviews
Easy filtering and searching
Pie charts & Pareto analysis, trend analysis
Real-time dashboards
Upload your own reporting docx templates (8D, complaints, etc.)
Statisti​cs and charts
Key Performance Indicators
​Grant ​access to supply chain partners (customers & suppliers)
System integration
System integration (SAP, Oracle, AX/NAV, Exact, and many others)
Build your own integrations
API for master data + measurements
JSON over HTTPS
Webhooks
Single Sign On
How to future-proof your Quality Management
Learn about Quality Management in the era of Smart Manufacturing and how you can future-proof your own Quality Management.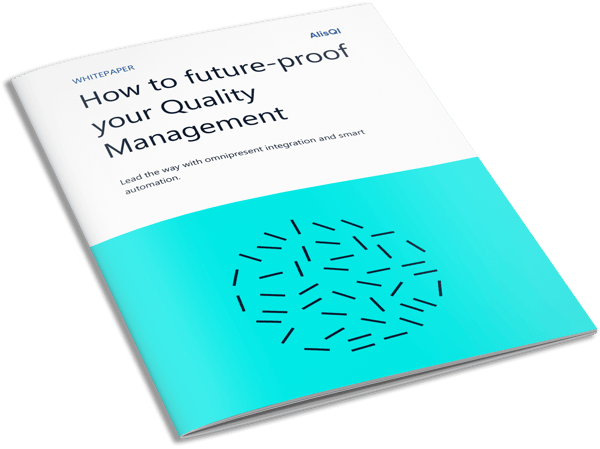 Smart quality platform for manufacturing
AlisQI is an integrated solution for all your Quality Management needs.
TOUCH
Insights into your products & processes
Collect all your data in one Quality Control (QC) system. Our Statistical Process Control (SPC) analytics will let you learn from your own data.
TOUCH
Quality manuals people actually use
Give operators access to documents when they need them. Simplify document management with clear flow charts and automated
version control.
Let's plan a free demo!
We would love to show you how your factory can benefit from using our software, save up to 20% on time and reduce waste by up to 15%! Join our 1-hour online demo to get a clear impression of how AlisQI could help you work smarter.